Stay tuned… Theres more to come! ​
A Distinguished School Created Distinguished Leaders Of The World
​
​The thought of a young women's "boarding school" or "finishing school" can seem old-fashioned to many people. Too few young women realise that a great education, along with the social skills that will allow them to later utilise that education in the world's finest social circles, awaits them at most of these elite establishments.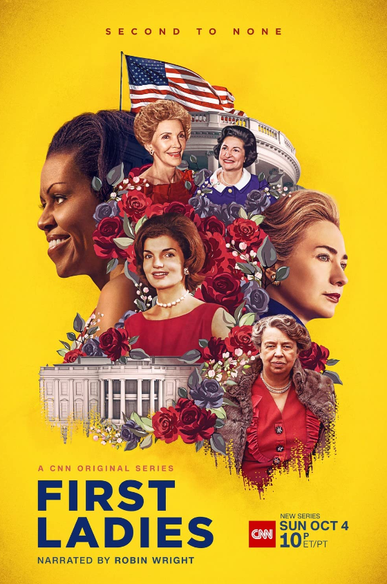 First Ladies CNN Original Series
Allenswood Boarding Academy was one such school for young women. It was located in Southfields, Wandsworth, England. Founded in 1883, and in business until the 1950's, its students hailed from families of the American upper-class and European nobility. Unlike many finishing schools of the era, where the expectation was to marry and eventually be the complement to a notable husband, Allenswood expected much more from their charges.

This school was different. It was a breath of fresh air. It provided a progressive education to its female students. Allenswood's curriculum included serious subjects in a time when men viewed education as not necessary for women. Headmistress and founder, Marie Souvestre stressed the importance of social responsibility and personal independence. Ms. Souvestre's main aim was for her students to be change-makers and leaders.

The school curriculum taught many traditional subjects of a finishing school: social and dining etiquette and deportment; languages; arts; dance; history; literature; and music. The topics that Madame Souvestre wanted to see her students shine most in, however, were philosophy and critical thinking.

One of Allenswood's famous students was former First Lady of the United States, the late-Eleanor Roosevelt, who, by all reports, was Madam Souvestre's favourite student. After leaving, they both kept in contact and she reminded Eleanor not to be "seduced by teas and the balls and social events, (and to) remember who you are and what is truly important."

Nina Gibson Roosevelt, the granddaughter of Eleanor Roosevelt, states in the 5-part series of "First Ladies" that having attended the academy Eleanor, "began to believe in herself as a woman with convictions and self-confidence to go forward to make her mark on the world." And Eleanor Roosevelt did just that. She became a clear-speaking voice of America and its women, a campaigner for social justice, a newspaper columnist and a true change-maker.

Although Allenswood Boarding Academy eventually closed its doors in the early 1950s, its legacy has lived on in the young women who left its doors highly educated, poised and polished. Goals which most young women are anxious to achieve in today's modern world.

The First Lady by Showtime
An Editorial Article about HRH The Crown Princess, Mary Elizabeth, Her Royal Highness Crown Princess, Crown Princess of Denmark, Countess of Monpezat."
HRH The Crown Princess New Official Galla Portraits of The Crown Prince Couple Kongehuset Photo Hasse Nielsen ©
Today I am highlighting someone that I consider a wonderful example and a champion of the Danish and Australian people, Mary Elizabeth, Her Royal Highness Crown Princess, Crown Princess of Denmark, Countess of Monpezat. I am pleased to give you an editorial series that positively talks about Princess Mary and her achievements and the mark she has left for generations to come. In the month of February, I will be spotlighting areas of Princess Mary and the Royal Danish Court:
Princess Mary in her role as HRH
History of the Danish Royal Family
Etiquette of Royal Families
Royal Dining Etiquette
---
Princess Mary in her role as HRH​
Why have I focused on Crown Princess Mary today? Many I speak to admire Princess Mary. Who would have thought an Australian making their way into a notable Scandinavian royal family! Well, she did it on the premises of love. Let's get to know the Crown Princess better. The Crown Princess was born Hobart, Tasmania, Australia as Mary Elizabeth Donaldson. She is the youngest daughter parent to John Donaldson and Henrietta Donaldson; The Crown Princess has two sisters and one brother. Where is Tasmania you may ask? It is a small island that makes up the seven states of Australia. Tasmania is known as the 'island of contrasts' where you can hike on rugged mountains, bathe in cleanest coastlines, picnic in the calmest bays, walk in native forests and the eat freshest produce you can find in Australia.

The Crown Princess Early Years
The Crown Princess's early years began in Texas. Returning to Hobart, The Crown Princess attended school the University of Tasmania graduating with a bachelor's degree in Commerce and Law. Her further education continued, working for advertising agencies in Melbourne, Australia.

Princess Mary was already well-travelled in her younger years and came from an emigree family that originated from Scotland. After achieving a university education and working in her areas of expertise, she travelled throughout Europe and the United Kingdom which included Scotland. Princess Mary worked in Scotland and for a short time in Paris, Melbourne and Sydney.
New Official Galla Portraits of The Crown Prince Couple Kongehuset Photo Hasse Nielsen ©
​
Princess Mary Today
Since her marriage Crown Prince Frederik of Denmark, Princess's Mary has learnt to speak, fluently in Danish. Danish is not an easy language to learn however over time she has been able to be accomplished in this Nordic language. Her acceptance of the Danish culture can be seen in many family photos. You will see her dressed in national costume wearing traditional clothing from The Kingdom of Denmark and Greenland.
The Crown Prince Couple resides with their family in Frederik VIII's Palace at Amalienborg and in the Chancellery House at Fredensborg Palace. To assist Princess Mary to accomplish her many roles and look after the day-to-day palace many routines, available to her the secretariat, service unit and household staff. The staff assist her in making international visits, attend ceremonies, making visits to Danish forces around the world.
Princess The Advocate
Princess's Mary is a passionate advocate for disadvantaged migrants, integration and fundraising projects, health and empowerment focusing on women, adolescent girls and children. You can find her to be the patron of The Alannah and Madeline Foundation, Twins Research Australia, Healthcare Denmark, University of Tasmania, European Emergency Medical Services Congress, Danish Cultural Institute. In 2007 Princess Mary announced the opening of the Mary Foundation which dedicates funds focusing on three areas such as bullying, well-being, domestic violence and loneliness.
After marriage in 2004, throughout her years, Princess Mary has displayed an elegant, timeless and classic style and has featured in Vanity Fair's annual best-dressed list, Vogue Australia, Germany, Woman Weekly Australia. She makes a point to wear Danish designers clothing and jewellery which has made famous brands such as Ole Lynggaard Jewellery, Copenhagen designer David Andersen.
Perhaps one day we will see Princess Mary will be the first Australian-born to be queen consort upon the ascension of her husband!
---
History of the Danish Royal Family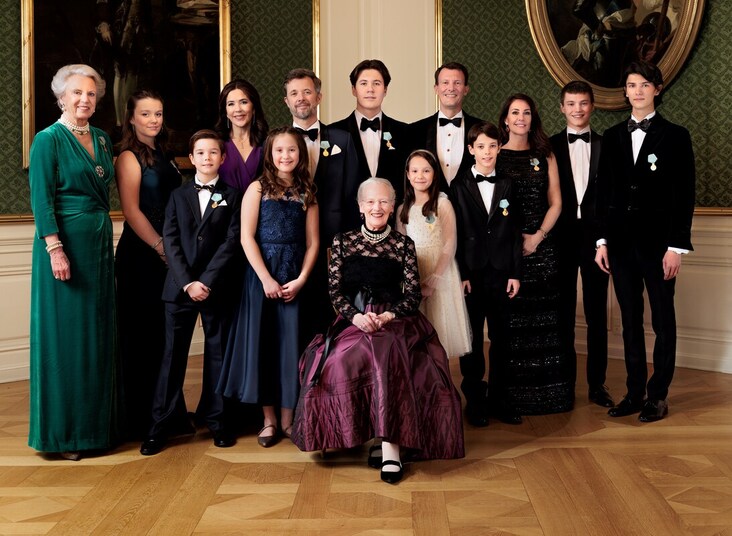 The 50 years anniversary of HM The Queen's accession to the throne Family Photo Photo Steen Brogaard, Kongehuset ©
​Quick Peek Into The History of the Danish Royal Family
The Kingdom of Denmark was united by the 8th century under King Gudfred; however, from the 9th century onwards, it was reunited by the Viking king Gorm the Old and Harald Bluetooth as an elective monarchy. It then became hereditary from the 17th century onwards during the reign of Frederick III.

Today the Danish Royal House is from a princely branch of the family Oldenborg and then Glücksburg. Christoffer III, in 1448, died, leaving no children and the Danish monarchy almost died out. Christian I was chosen from a branch of indirect family members. The reign of the Royal Family of Oldenborg lasted for over 415 years, reigning until 1863 when Frederik VII died childless.

Once again, a descendant from the junior branch of the House of Oldenburg was given the role to reign Denmark, Prince Christian IX of Glücksborg. He reigned from 1863 to 1906, and he has concurrently held the titles of Duke of Schleswig, Holstein and Lauenburg. Christian's six children with Louise married into other European royal families, earning him the sobriquet "the father-in-law of Europe". His descendants' royal families were in Greece, Belgium, Norway, Luxembourg, the United Kingdom, Spain, Yugoslavia and Romania. Interestingly, The Act of Succession, 1953, permitted a female to reign, seeing Princess Margrethe become Queen in 1972.

Modern Day Denmark
Today Denmark has a constitutional institution. What does that mean? The monarch, HM The Queen, cannot independently perform political acts. The monarch must 'represent Denmark abroad and be a figurehead at home' and duties consisting of bestowing honours, appointing a prime minister, and family members attending ceremonial, diplomatic, and representational duties. The Kingdom includes Denmark and is not limited to Denmark itself; it includes autonomous territories of the Faroe Islands and Greenland.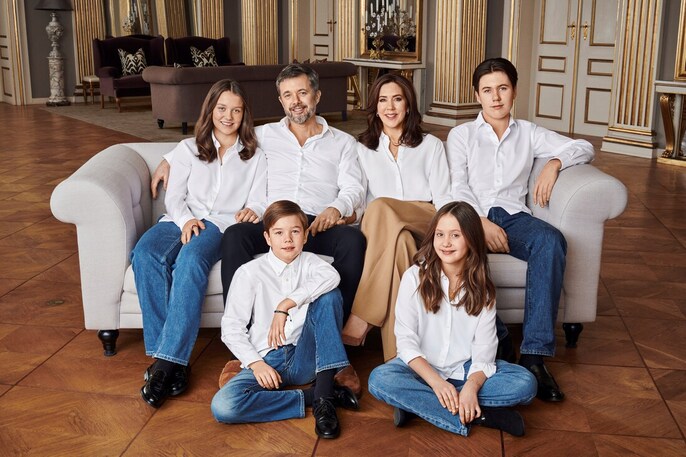 The Crown Prince Family Photo Hasse Nielsen ©
---
Etiquette of Royal Families
Reception of HRH The Duchess of Cambridge Keld Navntoft, Kongehuset ©
​Like most royals, using protocols and etiquette features heavily in a Princess's life, whether at home or in public. Many may think somehow that the individual is already an expert, or a wand is waved, and a magical transformation occurs. The truth is that training and just plain hard work is the secret formula to flawlessly stepping into a royal house that is over 1000 years old. How did Princess Mary do it?

The Language Of Protocol
Protocol is essential for any royal house. Protocol is the official procedure of systems that guides behaviour and human order. Protocols between kingdoms, countries, and people allow for smooth relationships and interactions.

For example, if Princess Mary wanted to write to Queen Elizabeth II, and she knows her personally, there would be no need for her to write to the Queen's private secretary and address the letter to him, as I would.

So, let's say she knew the Queen personally and wanted to communicate with her directly. The protocol Princess Mary would use: the letter would begin with 'Madam' or 'May it please Your Majesty'. The first line would contain 'With my humble duty' and end the letter' I have the honour to remain, Madam, Your Majesty most humble and obedient servant'.

Protocol would dictate that upon being presented to Queen Elizabeth at Buckingham Palace for a state visit, the Crown Princess Mary would curtsy, a short and dignified dip keeping eye contact or bow from the neck (not waist). Conversely, if you are a Danish citizen, the Princess would stand and wait for you to bow or curtsey. If the Royal hand is extended, take it lightly and quickly, at the same time performing a dip or bow.

In Front Of The Camera
You will see Princess Mary using natural and elegant hand movements and always looking straight at the person interviewing her. Using hand gestures creates a natural body movement which then affects your voice it shows that she is confident, comfortable and conversational.

You will find many photos in the media of Princess Mary sitting at charities, presentations and royal visits, sitting visually perfect. Here is how she does it: when seated, the best deportment is sitting in the chair where you are not resting on the backrest. You are, in fact, a fist away and leaning 15 degrees forward, with a straight back. It's best not to have your back super straight, preferably relaxed and natural. If the chair has armrests, remember to keep your arms in and lay your hands on your lap. Using the armrest will hitch your shoulders up, making you look tense, and appear sloppy on camera.
​
Foot placement is another consideration, affecting your posture and entire body deportment. Having the correct stance is best when talking in front of a camera. You can do this by placing one foot forward and the other back. All these techniques take practice, and the best approach is to use your camera to record yourself.

The Elegance of Etiquette
In all royal households worldwide, etiquette is a prominent feature that families follow. It is simply a code of polite behaviour. Royalty is the face and representative of their country; etiquette allows them to show kindness and mindfulness to people they meet. Etiquette covers many areas such as socialising, navigating a table setting, international customs, and business matters.

Princess Mary has always been authentically 'herself.' She shows actual genuine care and respect for the people of the kingdom of Denmark and Australia. She has demonstrated flexibility In moving from Australia to her Homeland to make Denmark her new home. Tenacity as a busy mother and wife… Respect for the role that she married into for the rest of her life... Princess Mary is a princess of grace, style and effortless beauty. She has been able to manage etiquette protocol. Royal life is a life of patroness and representative of the royal family, mother, wife, successfully and dutifully.
The Crown Prince Couple received Iceland's Presidential Couple Kongehuset ©
---
Royal Dining Etiquette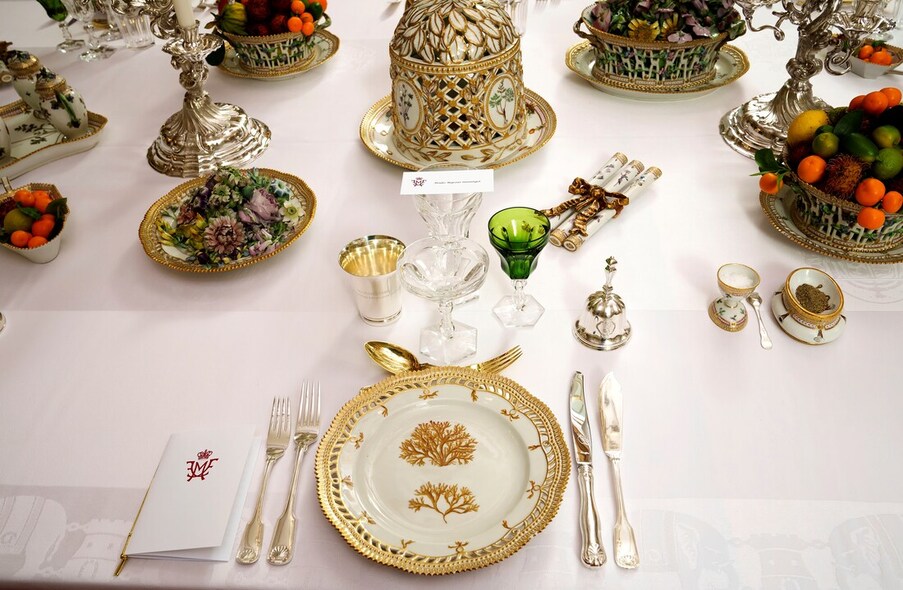 The 50 years anniversary of HM The Queen's accession to the throne The Queen was celebrated at a private dinner by the closest family members
​Photo Keld Navntoft, Kongehuset ©
Royal Invitations
If you or perhaps a charity or organisation, wanted the Princess to be a guest of honour, the invitation would best be made through a member of the royal household, like the Chief of Court of The Royal Household. The details they would require would be the event's nature, place, date, and time. The household manager always has to work alongside the secretarial and service unit. They are professionals and would help you with your guest list, menu and form of dress, and whether the Royal guest(s) could accept the invitation.

The same attention to detail would also be seen and expected in return from you, if you had the good fortune of being invited to any type of royal meal by the Princess, or for the Princess. You would undoubtedly need to respond promptly to any "Rsvp" request. You would need to respond formally, by hand written response, and you response would need to be sent within the required time. There is absolutely no texting nor emailing involved in responding to RSVP's unless the invitation was texted or emailed to you. This is the same as if you have received a gift from someone.

This once-in-a-life-time type invitation may be for events at either of one of two of the Crown couple's residences… Amalienborg Palace or Chancellery House at Fredensborg Palace. In the time that lies between sending your acceptance and the actual day of your royal experience, you might want to brush up on your European dining techniques, so you don't worry whilst dining about your table manners and can focus on being a sociable and interested guest, conversationalist and listener.

Dining with Royalty
When being escorted into the royal dining room to the dining table, there will be a few things you will need to know. The dining table will undoubtedly be set with exquisite and expensive crystal, porcelain and silverware, so 'accidentally bumping' any dinnerware is not an option.

While you won't be using any of the famed Flora Danica service, the food you'd be served would undoubtedly be served on porcelain by Royal Copenhagen, the makers of "Flora Danica." Two years ago, 2020, marked the 230th anniversary of the precious dinnerware. Still as enchanting as when initially imagined, the fine, hand painted porcelain, decorated with Danish flowers, remains one of the world's most prestigious and luxurious dishes to dine on.

Every individual piece of Flora Danica is still carefully created by hand. Flora Danica has been used at many festive royal Danish occasions throughout the last two hundred years, however, there was always at least one piece lost at each event to breakage, so the exquisite dinnerware was retired from royal use by 2000.

The last time it was seen publicly and officially, it was the 1990 birthday party for Queen Ingrid. The collection - about 1530 pieces in total - is one of the most well preserved and maintained services in the world. It is now mainly used for exhibition.

Danish Food
Danish cooking and food, like all cultures, is a derivative of food that was foraged from the land, that came from trade, invasions and discoveries. For centuries Denmark has had a paddock to plate culinaere. Today, gastronomic travel the Scandinavian countries are popular to try the freshest of fresh seasonal produce such as ocean fish, root vegetables, cabbage, berries, potatoes, rye bread, smoked meat, pickled fish, cheeses, and cakes.

Some notable dishes that you might be served are: K"Rvelsuppe - Chervil Soup, Smørrebrød - Open Sandwiches, Stegt Flæsk Med Persillesovs - Crispy Pork With Parsley Sauce And Potatoes, Fiskefrikadeller - Pan-Fried Fish Patties, Rødgrød Med Fløde - Danish Red Berry Pudding, Dream Cake – Drømmekage.
The 50 years anniversary of HM The Queen's accession to the throne The Queen was celebrated at a private dinner by the closest family members
​Photo Keld Navntoft, Kongehuset ©
I hope that you have found this editorial series helpful and shown that Mary Elizabeth, Her Royal Highness Crown Princess is a truly wonderful example and most certainly her achievements and the mark she has left for generations to come.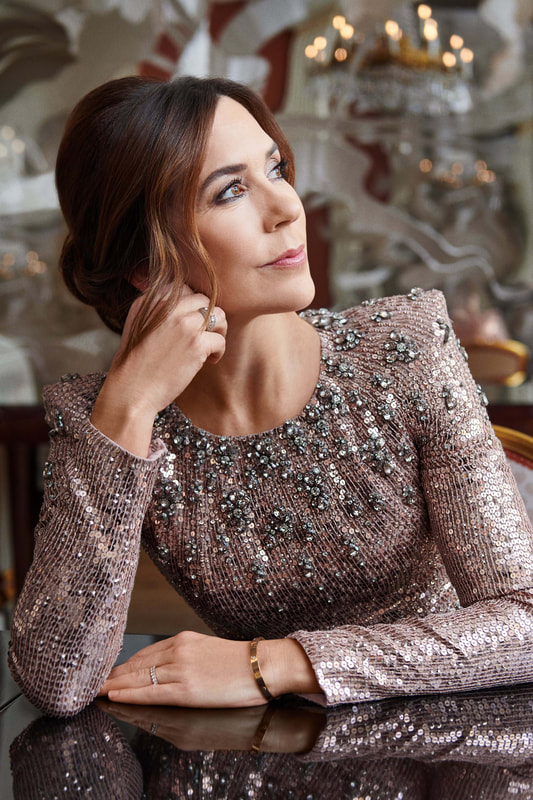 HRH The Crown Princess's 50th birthday Hasse Nielsen ©
I'm fascinated by the golden-era of history... Otherwise, the Gilded Age."
- Elizabeth Soos | Founder of Auersmont School of Etiquette
​A period in time marked by great wealth, accumulated by a very few people. People who became not only well-known for their business accomplishments, but their lavish spending. Many became the titans of their industries and their names and legacies remain well-known to this day. Names like Vanderbilt, Carnegie and Astor.

The term 'Gilded Age' comes from a book title by popular American author Mark Twain, who, along with Charles Dudley Warner, referring to the era as a 'Gilded Age.' It was not only a reference to all of the wealth being accumulated by a celebrated few, but the literal gilding which seemed to cover so much of the design, furnishings and personal baubles which came to highlight and define that golden age in history.
And golden it was! It was a time where gilding was a feature throughout houses and the dining table. There was no expense spared for entertaining the famous, royalty, society, acquaintances, friends and family. This was the era where the table was carefully arranged with brilliant crystals and cut glass, twinkling together with gilded silverware, set upon fine linens and accompanied by bright floral arrangements.

The United States had been underwritten by major industrial growth. Americans especially came into unbelievable wealth and conjured up every sort of implement possible to make life and dining a spectacular show and have society tongues wagging… in the right way!

What did the Gilded Age mean in terms of etiquette? Etiquette expanded itself to new modern devices of the table, transport and social scenes. It was where old forms of etiquette were adapted or thrown out due to the new modern industrial age and new rising social scenes of the western world.
---
THE GILDED AGE TABLE
What would those of the Gilded Age want on their table? Everything imaginable! Let's take a look……What would the Gilded Age table have seen? Figure 1 displays a few items that we still see today, butter spreader, children's flatware minus a food pusher. Children were encouraged to eat correctly at the table and cutlery was especially made. The food pusher was an item made for children, even up till 1940-1950's. The butter knife has slowly disappeared and today we would use knives straight from the butchers block.

Interestingly the jelly knife is featured in this catalogue. This type of jelly knife would most probably refer to sweet gelatin dessert. The first recorded jelly dessert was in the 18th century book The Art of Cookery by Hannah Glasse. Jelly was found sandwiched between layers of the trifle, a delectable sweet table pleasure.

Figure 2 is the crème de la crème of the Gilded Age. These flatware or serving ware was made for every dish or food that was eaten by those of the time. You are probably wondering why so many different flatware? Those that had money would purchase such products as a display of wealth and the etiquette of the day was that it was a no-no to touch food with your fingers. The flatware featured are as follows: lettuce spoon and fork, oyster fork, small olive spoon and fork, olive fork and spoon. How did the Gilded Age table look like with all these implements on it?
---
GILDED AGE PARTY & EVENTS
The Gilded Age was about showing your new found wealth and those who maintained 'old money' also stepped out to let others they were still there. One of the most famous events was noted in the daily paper held at the Astor's 5th Avenue 'double' residence. 300 guests were invited who all were "prominent representatives of New York society". Their invitations noted that they must attend in 'full dress'. What did this mean?

Full dress referred to women dressing in evening gowns with jewellery ordered and shipped from Cartier or Bvlgari via Europe. Wearing together with exotic perfumes from the Orient, highly coiffured hairstyles, silk gloves and an ornate purse. Most likely women would make preparations in getting ready, an all day event with the help of staff. The men would dress in black dress coats with white vest and cravat with accessories such as white gloves, top hat and walking cane.
| | | |
| --- | --- | --- |
| | ​What was served at the Astor's magnificent ball? Using Mrs Astors "solid silver table service" a midnight supper menu was found to serve the following items: | |
Consommé à la Princesse
Térapène
Filet de boeuf aux champignons frais et truffes
Canard canvasback rôti
Salade de céleri et laitue
Sandwiches assortis
Glaces de fantaisies
Biscuit glacé biscuit Tortoni
Gâteaux assortis
Gelée macédoine
Charlotte Parisienne
Fruits
Bonbons
Café Champagne Claret Cup Lemonade Poland water

Clear broth soup
North American turtle soup
Beef with champignon mushrooms and truffles
Roast Canvasback duck
Celery and lettuce salad
Assorted sandwiches
Ice-cream based recipe
Ice-cream with crumbled biscuit and fruit
Assorted cakes
Fruit salad jelly
Cream sponge finger cake
Assorted fruits
Assorted sweets and nuts
Assorted beveridge's including coffee, champagne, claret, lemonade and water imported from Poland
With the help of
Larousse Gastronomique
, I have interpreted the dishes that this extravaganza would have served during the early hours of the morning. Why would a French written menu appear in New York? The handwritten menu featured in Europe in royal houses such as King Louis XIV, which still survives today. This menu was written in 1757 where guests were entertained by the king at
Château
de Choisy, it was placed on the table revealing 4 courses and dessert. This tradition has continued on till today, interesting, Queen Elizabeth has her menus written in French for everyday dining and state events.
---
​GILDED AGE CLOTHING
The Gilded Age was an age where
men, children and women especially wore many layers of garments that flowed elegantly to the floor. Women styles encouraged the use of brightly coloured materials and fabrics with waist altering corsets to 'promote the perfect shape' for the time. Men's fashion garnered the creation of many different suits, hats and accessories. It was a must for those invited, to wear the appropriate clothing for events such as high tea, garden parties, luncheons and formal dining events. Everyone was expected to wear an array of outfits suiting the occasion and styles of the season. Those fortunate to have the backing of wealth, brought with them an assistant who would act as a dresser and stylist, changing dresses, shoes, accessory's, hat's and hairstyles changes during the day to evening, perhaps they even had a Louis Vuitton trunk with these necessary items.
| | | |
| --- | --- | --- |
| | ​Most notably of the gilded age fashions was the use of the corsets and bodices. Corsets were made from silk, lace and strong cotton material that had whale bone sewn into it which helped females to achieve the 'figure 8' look. The bodice was tightly laced together, with the help of her assistant and always accompanied a dress, no matter the occasion. The style of the time was called the 'princess line' which originated with Princess of Wales, Princess Alexandra. This style was also called French-dart-line dress which had long panels without a join or separated at the waist. These long seams helped to give its wearer a slimline appearance showing off the 'model' waist together with long sleeves and high neckline. | |
Part of the gilded age women's ensemble was to wear cape or otherwise known as a dolman-style-mantle. This allowed for warmth in cool climates and worn inside for short periods of time during a visit. The cape also kept a person warm in a carriage and easy to manoeuvre when getting in and out and up and down stairs.

Hat's was a complimentary must! Hat's came in all sort of shapes, sizes and designs. Hats could have come trimmed with lace, feathers, satin or velvet ribbons. The wearing of hat continued too the advent of second world war.
Men's style was also as elaborate as women and children's wear. It was popular to wear a morning or frock coat along with a top hat. Those that were middle class wore sack coat which paired with a bowler hat. Later on during the gilded age men favoured single-breasted suits and gracing evening events was the tuxedo.

​The invention of the tuxedo is a tale of two cities. The first story was

said to have originated from

Tuxedo Park

, an upstate New York country playground for Manhattan's wealthiest elite. The second story was that in

1865, King Edward VII commissioned a

Savile Row tailor -

Henry Poole & Co

., to tailor a dinner suit for informal occasions, he would have with family and friends, known to the British as a 'dinner jacket' and the the Americans 'tuxedo'. It was where the tailcoat lost it tail and became a jacket.
​Later in the gilded age, due to good weather, nature and money spent on sprawling estates, women entertained outside whether it be garden parties, trying 'modern' inventions such as the bicycle, or participating in acceptable games such as badminton, golf, tennis, croquet or swimming.

Children were encouraged to stay outdoors as it was deemed 'good for ones health'.

New clothing was created to accommodate new ventures such as athletic wear and bathing costumes.
---
New period drama in the works by the creator of Downton Abbey, Gosford Park and The Young Victoria, Julian Fellowes has a new HBO series, coming soon....
www.hbo.com/the-gilded-age
HBO describes the nine-part series where "the story begins in 1882 — introducing young Marian Brook, the orphaned daughter of a Union general, who moves into the New York City home of her thoroughly old money aunts Agnes van Rhijn and Ada Brook. Accompanied by Peggy Scott, an accomplished African-American woman, Marian inadvertently becomes enmeshed in a social war between one of her aunts, a scion of the old money set, and her stupendously rich neighbors, a ruthless railroad tycoon and his ambitious wife, George and Bertha Russell."
For More About the Gilded Age
| | | |
| --- | --- | --- |
| | Elizabeth feels a strong connection to the past; specifically with how people lived and interacted. Going back in time to understand the future. ie., where did handshakes come from? And, why do you use one specific fork for eating a particular item? Those that influenced etiquette. Learning the history behind these codes of conduct, where they were created, and how they've adapted throughout the centuries, is a way for Elizabeth to bring her vision of etiquette to life and move forward to the future. As her research unfolds, you will get updates right here at The Auersmont Articles.... | |